EDUCATION FOR REFUGEES
According to the United Nations, education is a fundamental human right and essential for the exercise of all other human rights. It is an essential tool by which economically and socially marginalized adults and children can lift themselves out of poverty and participate fully as citizens. Education empowers individuals with freedom and yields important development benefits.
Yet, millions of children and adults are deprived of educational opportunities, with many living in countries where the majority of refugees have fled. In 2016, nearly one-third of PRERNA's clients were illiterate upon arrival to the U.S. and 80 percent spoke little to no English. Thus, developing an educational pathway for each refugee is of the utmost importance. Education and employment are closely related as higher levels of education and English language literacy offer newcomers greater opportunities for employment, for financial independence and the chance to rebuild their lives.
1. Adult Education - We enroll at least 90 percent of refugee adults into English as a Second Language (ESL) classes. Elementary-level English is taught as well as lessons for those who are completely new to the English language. As part of cultural assimilation and learning new ways of life, Family Ambassadors advise refugees about American culture, traditions and customs so they can better understand and successfully assimilate into their new country.
2. K-12 School Enrollment - PRERNA helps prepare and enroll all children (ages 5-18) into the public school system. We work with school districts to ensure they are assigned to classes with age-appropriate lessons as they build their English literacy skills.
3. Homework Help - Volunteer tutors are paired with children to assist with remedial education or boost their studies if they are advanced students.
4. Standardized Test Preparation - Tutors help students prepare for standardized testing which can be a stressful time at school. We also leverage the services of professional partnerships to provide supplemental education support.
5. Books and Supplies - PRERNA collects donated books and gives new school supplies to children to supplement limited resources available in public schools. We also furnish students with computers so they can complete online homework assignments.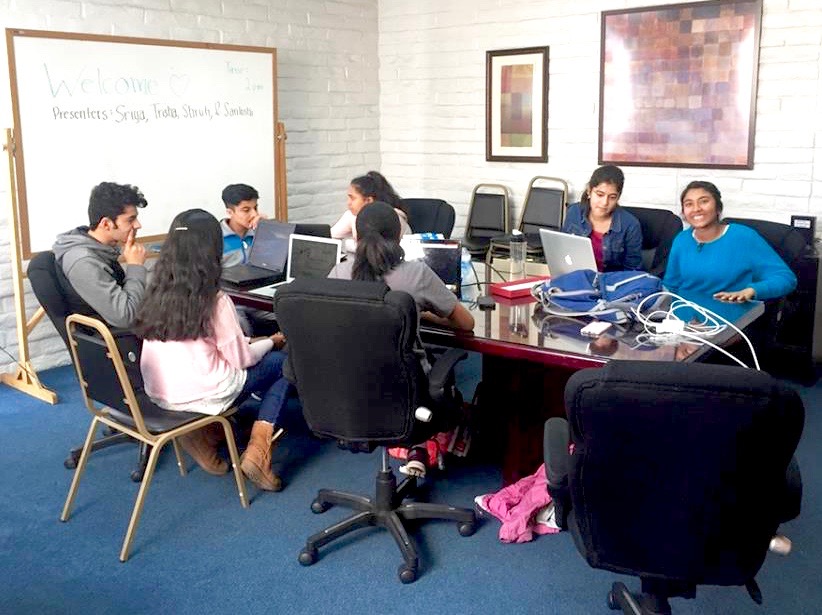 6. Youth Mentorship - Adolescence can be a difficult time for most young people and even more so for refugees. PRERNA Youth Mentors provide vital support to refugees during their adjustment into a new home, new school and new friends. Technology workshops are held to engage youth and teach them about computers and social media so they can stay connected and up-to-date. Some Youth Mentors are also involved in other community programs that support refugees. A volunteer group of Girl Scouts, who taught refugee youth software programming and online mapping techniques for finding local resources, has made significant impact while they also earn awards for donating their time and talent.
7. General Equivalency Diploma (GED) - PRERNA encourages and works closely in mentoring adult youth over 18 years of age to earn their high school equivalency credential so they can prepare for higher education.
8. Community College and University - We raise awareness of higher education possibilities, the various programs available, and guide adult youth who choose to pursue college with enrollment and financial aid applications. Our education volunteers work with college counselors to provide the registration forms, fees and financial assistance necessary to help students enroll into higher education in areas of study where their level of interest, aptitude and skills are strong.
9. Adult Mentoring - Volunteer Adult Mentors may also be assigned to provide refugees with ongoing care and answer questions through virtual Skype sessions. Mentors are often conversation partners who can help English learners improve their language skills and provide real life examples and scenarios. Women usually have the greatest need to learn conversational English since 90 percent of the female refugees who arrive in the U.S. have minimal to no understanding of the language. PRERNA works with translators who can help adults learn how to speak basic English. Curriculum to teach English for vocational purposes is also available to adults who wish to increase their language skills and prospects at their place of employment.
10. Library - PRERNA has initiated a refugee lending library that offers children storybooks as well as self-help development, vocational guides and resources for career planning. We are working with local bookstores and online educational systems to expand our library's offerings. This resource will enable them to share the diversity of their cultures and learn about new ways of living in the U.S.
11. Education Pathway Planning - PRERNA works with every refugee who wishes to develop a personal education plan by mapping out her or his educational goals. Together, we identify specific milestones to meet the goals and celebrate the achievement of each one.
PRERNA is committed to ensuring that all refugees receive an education, a fundamental human right which will empower them with greater opportunities and benefits in life.
With full participation as active citizens, they will be able to provide value to their community and pay it forward through their children, the next generation. If you are an educator or represent a school, bookstore, tutoring service or other educational organization, contact PRERNA to volunteer your services or consider partnering with us.